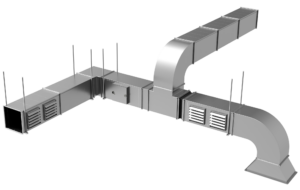 Sheet metal HVAC ductwork fabricator employing the latest fabrication technology in the industry.
Titan Metals fabricates a wide range of HVAC ducts and operates under a lean culture that reduces waste while maximizing productivity and efficiency.
Our experienced in-house team of detailers can design precise layouts for spaces of any kind while optimizing fit to avoid interference with other trades.
Titan Metals' design-build approach manages all aspects of design to fabrication stages in-house, eliminating the involvement of 3rd parties. Titan Metals employs lean processes that reduce project costs and material usage, expedite project completion, and fast-track product delivery to the site.
CNC plasma cutting
Forming
Notching
Spot welding
Shearing
Punching
Roll forming
Welding
Sawing
Bending