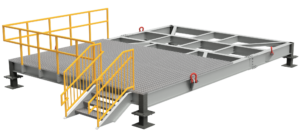 Titan metals fabricates a range of heavy-duty, safety, and operational applications for various industries.
Structural fabrication is a critical component of any industrial and commercial operation. Our highly qualified staff manufactures unique applications while adhering to strict tolerances to meet standards. Using the latest technology and fabrication equipment, Titan Metals operates under a 40,000 sqft automated fabrication shop in Houston, TX. Employing two cranes (5 &10 tons), fitting stations, a rotating plasma pipe cutter station, CNC plasma tables, an ironworker, a stationary band saw, and four welding station booths.
Equipment platform solutions that provide equipment space and working spans for limited areas. Heavy-duty sustainable, and cost-effective applications are available. Titan Metals offers design-build capabilities to meet the client's demands.
Meets any PSF designable requirement
High degree of customization
D1.1 qualified
Coated finished products to avoid corrosion
Fiberglass or steel grading availability
Welded, bolted or combined applications
Safe ingress and egress
Sustainable long lasting designs